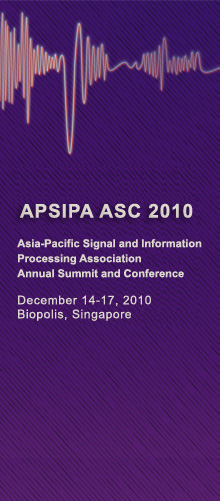 INVITED SESSION
Biodata:
Prof. Dr.-Ing. Jörn Ostermann received his Dipl.-Ing. and Dr.-Ing. from the University of Hannover in 1988 and 1994, respectively. From 1988 till 1994, he worked as a Research Assistant at the Institut für Theoretische Nachrichtentechnik conducting research in low bit-rate and object-based analysis-synthesis video coding. In 1994 and 1995 he worked in the Visual Communications Research Department at AT&T Bell Labs on video coding. He was a member of Image Processing and Technology Research within AT&T Labs - Research from 1996 to 2003. Since 2003 he is a Full Professor and Head of the Institut für Informationsverarbeitung at Leibniz Universität Hannover, Germany. In 2007, he became head of the Laboratory for Information Technology.
From 1993 to 1994, Prof. Jörn Ostermann chaired the European COST 211 sim group coordinating research in low bitrate video coding. Within MPEG-4, he organized the evaluation of video tools to start defining the standard. He chaired the Adhoc Group on Coding of Arbitrarily-shaped Objects in MPEG-4 Video. Since 2008, he is the Chair of the Requirements Group of MPEG (ISO/IEC JTC1 SC29 WG11).
Prof. Jörn Ostermann was a scholar of the German National Foundation. In 1998, he received the AT&T Standards Recognition Award and the ISO award. He is a Fellow of the IEEE, member of the IEEE Technical Committee on Multimedia Signal Processing and past chair of the IEEE CAS Visual Signal Processing and Communications (VSPC) Technical Committee. Prof. Jörn Ostermann served as a Distinguished Lecturer of the IEEE CAS Society. He has published more than 100 research papers and book chapters and is coauthor of a graduate level text book on video communications. He also holds more than 30 patents. His current research interests are video coding and streaming, 3D modeling, face animation, and computer-human interfaces.
Abstract:
In 2010, MPEG began work on two important new standardization projects. Jointly with ITU-T Study Group 16, MPEG started the development of a new video coding standard named High Efficiency Video Coding (HEVC). Furthermore, MPEG identified that transport of MPEG media over the Internet is often lacking performance and interoperability. As a result, the MPEG Media Transport (MMT) project was launched.
The new video coding standard, HEVC, will be jointly developed by experts from both MPEG and ITU-T SG 16 in a group named Joint Collaborative Team on Video Coding (JCT-VC). Compared to the latest video coding standard AVC|H.264, it is targeted at increased compression efficiency with an emphasis on video sequences with resolutions of HD and beyond. In addition to broadcasting applications, HEVC will also cater to the mobile market.
In the past, a MPEG-3 project was planned with the intention to replace MPEG-2 for HD video content until it was realized that increasing the resolution did not require an entirely new standard. Instead, it was sufficient to just add another profile for MPEG-2 allowing for the higher video resolutions. What is different today?
It is expected that additional complexity for video codecs will be available. Furthermore, the statistical properties of the video signal of modern video cameras differ significantly from that of a camera available 10 years ago when AVC|H.264 was standardized. As of June 2010, HEVC promises to reduce the bit rate for video coding by 50% compared to AVC|H.264 using previously explored coding tools like adaptive loop filter, extended macro block size, larger transform size, internal bit depth increasing, and adaptive quantization matrix selection, as well as new tools like decoder-side motion vector derivation, decoder-side motion estimation, adaptive interpolation filter, and adaptive prediction error coding in spatial and frequency domain. Unlike previous calls for proposals at the beginning of the standardization process, all 27 HEVC proposals were based on a hybrid coder with motion compensation and no proposal used wavelets.
In order to transport MPEG media over the Internet, MPEG relied on the work of other standardization bodies like 3GPP or IETF. Furthermore, the real-time transport of MPEG media over the Internet using standards is currently not possible when high quality is required. Protocols like RTP and RTSP require the use of additional proprietary commands in order to provide acceptable service over the Internet. To enable progressive download and streaming services, MPEG started working on HTTP streaming as well as MPEG Media Transport (MMT) in July 2010 and October 2010, respectively. The goal is to offer services based solely on existing protocols like HTTP or RTP, services based on UDP and TCP, as well as services that are based on IP with additional interfaces to the data link layer. It is expected that MMT will enable delivery of MPEG media with special focus given to HEVC.
Biodata:
Prof. Oussama Khatib received his Doctorate degree in Electrical Engineering from Sup'Aero, Toulouse, France, in 1980. He is a Professor of Computer Science at Stanford University.
He is Co-Editor of the Springer Tracts in Advanced Robotics series, and has served on the Editorial Boards of several journals as well as Chair or Co-Chair for numerous international conferences. He co-edited the Springer Handbook of Robotics, which received the PROSE Award for Excellence in Physical Sciences & Mathematics and was also the winner in the category of Engineering & Technology.
Prof. Oussama Khatib is a Fellow of the IEEE and has served RAS as a Distinguished Lecturer, as a member of the Administrative Committee, and as the Program Chair of ICRA 2000. He is the President of the International Foundation of Robotics Research (IFRR) and a recipient of the Japan Robot Association (JARA) Award in Research and Development and the IEEE Robotics and Automation Society Pioneer Award.
Abstract:
Robotics is rapidly expanding into the human environment and vigorously staying engaged in its emerging challenges. From a largely dominant industrial focus, robotics has undergone, by the turn of the new millennium, a major transformation in scope and dimensions. This expansion has been brought about by the maturity of the field and the advances in its related technologies to address the pressing needs for human-centered robotic applications. Interacting, exploring, and working with humans, the new generation of robots will increasingly touch people and their lives, in homes, workplaces, and communities, providing support in services, entertainment, education, manufacturing, personal health care, and assistance. The successful introduction of robots in human environments will rely on the development of competent and practical systems that are dependable, safe, and easy to use. This presentation focuses on the efforts to develop human-friendly robotic systems that combine the essential characteristics of safety, human-compatibility, and performance with emphasis on (i) new design concepts and novel sensing modalities; (ii) efficient planning and whole-body robot control strategies; and (iii) robotic-based synthesis of human motion and skills.
In human-friendly robot design, our effort has focused on the development of intrinsically safe robotic systems that possess the requisite capabilities and performance to interact and work with humans. The novel design concept was based on a hybrid actuation approach that consists of biomimetic pneumatic muscles combined with small electric motors. The flexible muscles and the lightweight mechanism allow for human safety, while the electric motors compensate for the slower dynamics and nonlinearities of the pneumatics. This concept was shown to significantly decrease the inherent danger of robotic manipulators, as measured in terms of the reflected mass perceived at the point of impact. Safety can be further enhanced by the addition of robot skin to provide impact reduction and tactile sensing capabilities for advanced sensor based behaviors.
Redundancy is a major challenge in the planning and control of humanoid robots. Inspired by human behaviors, our early work in robot control encoded tasks and diverse constraints into artificial potential fields capturing human-like goal-driven behaviors. To implement such behaviors on robots with complex human-like structures we developed a unified whole-body task-oriented control structure that addresses dynamics in the context of multiple tasks, multi-point contacts, and multiple constraints. The performance and effectiveness of this approach have been demonstrated through extensive robot dynamic simulations and implementations on physical robots for experimental validation. The new framework provides a multi-task prioritized control architecture allowing the simultaneous execution of multiple objectives in a hierarchical manner, analogous to natural human motion.
Initially motivated by the development of human-like skills in robotics, our extensive study of human musculoskeletal system has brought insights and results that proved extremely valuable in human biomechanics. Understanding human motion is a complex procedure that requires accurate reconstruction of movement sequences, modeling of musculoskeletal kinematics, dynamics, and actuation, and suitable criteria for the characterization of performance. These issues have much in common with the problems of articulated body systems studied in robotics research. Building on methodologies and techniques developed in robotics, a host of new effective tools have been established for the synthesis of human motion. These include efficient algorithms for the simulation of musculoskeletal systems, novel physio-mechanical criteria and performance measures, real-time tracking and reconstruction of human motion, and accurate human performance characterization. These developments are providing new avenues for exploring human motion -- with exciting prospects for novel clinical therapies, athletic training, and performance improvement.
The following six tutorial sessions will be held on December 14, 2010. Tutorials 1-3 will be held in the morning, while Tutorials 4-6 will be held in the afternoon.
Morning session (9.00 am to 12.00 pm)
Afternoon session (2.00 pm - 5.00 pm)
Panel Session 1
With the exponential growth of media contents on the Web, the ability to search for media entities based on not just text annotations, but also visual contents, has become important. Although limited, popular commercial search engines, like Bing and Google image search, and start-ups like Gazopa and TinEye, SnapTell etc, are offering search services based on both text and visual contents. As commercial-scale search services require the handling of millions of media entities within interactive time, and with visibly improved performance beyond what can be done with annotated text, are research and lab technologies ready for such offerings? Has years of media content analysis research made any important contributions towards such services, and what should we focus on next to make better impact?
Panelists:
Kiyoharu Aizawa, University of Tokyo, Japan
Clement Liang-Tien Chia, Nanyang Technological University, Singapore
Alexander C. Loui, Eastman Kodak Company, USA
Jialie Shen, Singapore Management University, Singapore

Panel Session 2
Data hiding tries to hide secret message in a cover media via modifying slightly the components of the cover media. It can find many applications in covet communications, watermarking, and unseen labeling. On the other hands, media forensics wishes to find the traces of any imperceptible modifications on a media. Both data hiding and forensics have attracted attentions in recent years. Though there have been many research reports in data hiding and forensics, there are still many challenges to overcome.
In this panel session, we invite a few speakers to share their viewpoints and experiences on different aspects, including the recent progress and the potential applications, related to the data hiding and forensics.
Panelists:
K. J. Ray Liu, University of Maryland, USA
C.-C. Jay Kuo, University of Southern California, USA
Mohan Kankanhalli, National University of Singapore, Singapore
H.-Y. Mark Liao, Institute of Information Science, Academia Sinica, Taiwan ROC
Oscar Au, Hong Kong University of Science and Technology, Hong Kong SAR, China
Panel Session 3
The improvement of our living environment using the information technologies has received more and more attention in recent years. The main purpose of this panel is to introduce young researchers to a wide diversity of applications and issues and stimulate their interests and awareness along this research direction. In this panel, we have invited five leading researchers in this emerging field to share their experience and findings. They will discuss the opportunities and challenges in several application domains, including the smart oil field, water treatment, health informatics, tsunami and disaster mitigation, smart grids for energy distribution and policy-making.
Panelists:
Antonio Ortega, University of Southern California, USA
Cheng Fu, Nanyang Technological University, Singapore
Ping Yang, Chinese Academy of Science, China
Khairul Munadi, Syiah Kula University, Indonesia
Margaret Tan, Nanyang Technological University, Singapore
Overview Session I
Overview Session II